Dave Tooley's Solent City Scooter Club Page

Also please visit my Dave Tooley's Scooter Racing Links Page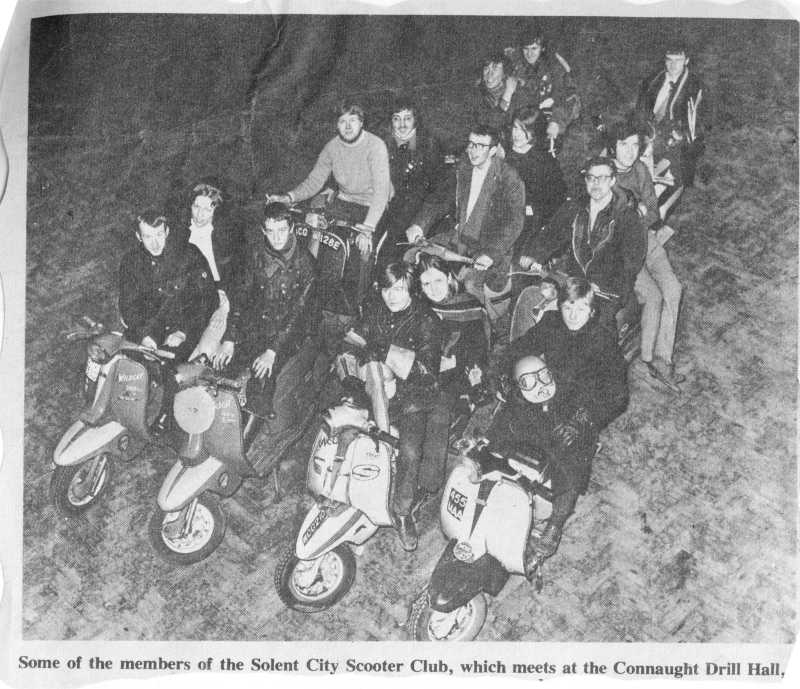 This is a priceless cutting from the Portsmouth Evening News 1969.
I had joined the Solent City Scooter Club the previous year riding a Lambretta LD125. Because of it's age, and the pristine condition with which I'd rebuilt it, the club awarded me with a special 'Vintage' award plaque.
I still have it!
You will notice in the front row from the left, are two of the original Wildcat X5 Multiport Lambrettas from Rafferty Newmans.
Mick Estlick is sitting on the 200cc version, (I have a feeling his pillion passenger was Colin Fry's girlfriend at the time) and Keith Champion next to him is astride the 150cc machine.
We optimistically rode the 150cc machine up to Mallory park in Leicester with the intention of racing it, and then riding it back the following evening. But it threw a crankshaft just before we got there. Keith and I shivered at a Leicester Bus Station in a snowstorm for what seemed hours before we finally got a lift to the race circuit.
I am third from the left, on my home built Wildcat Dykes 175cc machine.(which subsequently became my first racing bike)
Sitting on my pillion is Muriel Rowe, and to my right is Kenny Erridge. (Who later worked in the stores at the Fareham branch of Rafferty Newmans for several years)
In the Second row from the left is John Olde (I think that is how it's spelt) with Trev Aspden on pillion. Next is Pete Boyle with Mick Platts as passenger. (Thanks to Pete for reminding me of names I'd forgot)
To their right is the infamous Seaweed!!! (Dave Seymour) with Colin Fry on pillion.
Back row from left is John Searle with Terry Langridge as passenger (at least I think it's him) and I have no idea who is to their right.
PLEASE someone help me identify the unknown faces!!!
Send me an email about Solent City Scooter Club
Problems with a link? Mail me.
Copyright © 2000 - 2006 David Tooley. All rights reserved