Andy Gilliam's 2nd I.O.W. Rally Page

Also please visit Dave Tooley's Scooter Racing Links Page
Andy Gilliams I.O.W. Rally Pages 1970, 1973, 2003, 2004
Isle of Wight Lambretta club Rally 1971.
Please click on the thumbnails for a larger image
At Last, Fame For The Riot Squad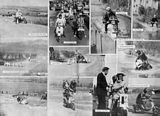 Have a read of Andy's own website, http://www.gdtp.freeserve.co.uk/ all about crash sites of wartime fighter aircraft around the Isle of Wight.
Send me an email about the 1971 Isle of Wight Rally
Problems with a link? Mail me.
Copyright © 2000-2006 David Tooley. All rights reserved